Earn $3000 to $25,000 as  a
Business Broker
Start Your Own Business Brokerage Practice
Start Earning Extra Income NOW!!
Learn How to Become a Business Broker
No Industry Experience Required
Start Full Time of Part Time
No Large Investment Required
Be Your Own Boss, Set Your Own Hours
Work From Home or Office
Get Life Time of Freedom and Happiness!!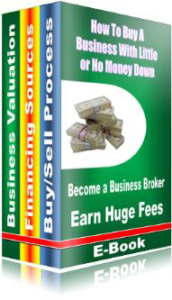 This is the ultimate guide you will need to Become a Business Broker.
Normally Sold For $125.00

But for Limited Time You Can Have the Guide for only

$39.95

100% Money Back Guarantee




There is Absolutely Nothing to Lose.




You can only Win!
See How Much Business Brokers Make Per Deal
Transaction      Percent    Commission

$25,000            10%            $2,500
$50,000              8%            $4,000
$110,000            8%            $8.800
$750,000           5%             $37,500
$1,500,000        5%             $75,000
This is not one of those "something for nothing" get rich schemes you see everywhere. 
Learn to make money as a Business Broker, one of the easiest and most rewarding endeavors available.
As a business broker, earnings of up to $150,000 dollars or more a year are possible. It can be started part-time or full. And, you will not need a lot of money to get up and running. This is best business and easiest business anyone can get into.
You can start your business with very little, or no money and still keep your regular job until you know your business is a success. Many people have started this way as a become a business broker and found the lifestyle, freedom and happiness they'd been seeking for years.
How to become a business program is designed to teach ordinary people, without any background in buying or selling businesses. The program will show you a simple and easy method to earn huge fees and keep them all to yourself. Best of all, this is something most anyone reading this can do. To become a business broker you don't need to have industry experience.
All successful people have one thing in common they take ACTION... How about you?
DON'T WAIT, ORDER YOUR


Business Broker Guide


NOW!!


Did you know why it's so easy to make money in this business?

Approximately 18% of businesses are sold each year in the U.S.

There are approximately $360 billion worth of businesses sold each year. That's big money!

Industry survey has shown that the average small business selling price is about $200,000.

The average commission to a broker who sells a business is $18,000 or more.

The average home-based business broker earns between $300,000 and $400,000 in annual commissions. Some earn more.
Here's What You'll Get Inside the Business Brokerage Program...
You will literally receive all the tools, ideas, methods, forms, and steps you can use to get started.
 
A clean digital copy of "Start & Operate Your Own Lucrative Business Brokerage Practice" Home Study Course. (Value: $149.95)
In this guide How To Become A Business Broker here are some of the things you'll learn about:
How to start your business brokerage practice in the quickest way...
The quickest way to identify those who want to sell their business...
The most efficient way to analyze and price a business for a quick sale…
List of businesses that tend to sell quickly...
How to analyze the financial statements...
The most effective ways to marketing...
The most efficient way to find buyers for businesses you're selling...
What the most successful brokers do - and how to do the exact same thing...
How a broker earns money...
How to earn fees by providing valuation service to owners before they sell...
How to earn fees by writing business plans for owner who wants to raise financing...
How to earn fees helping to finance the purchase you broker...
How to buy businesses with little or no money down...
The most common mistakes - and how to avoid them...
Additional ways to generate income from your practice...
Overview of legal and tax issue...
and a lot more..
 
Business Valuation Spreadsheets. (Value: $24.99)
For those who are familiar with Microsoft Excel, as an added bonus, I am also giving away this comprehensive set of Excel Spreadsheets in a Workbook that has been coded to allow thorough analysis of a company's financial. (Microsoft Excel Required)
 
All the Forms and Contracts a Business Broker needs. (Value: $59.95)
You will get all the forms and contracts you need to immediately start your practice. The forms are also in electronic format if you decide to make changes to them.
 
How Much Would You Pay For Such Valuable Information?



Realize that this information sells for thousands of dollars. In fact, there are companies who will charge you $3,500 to $10,000. Easy!
In fact, I'll make it so easy for you to afford it that even if you're on a budget, you can still grab this lifetime opportunity.
Remember, the fee for how to become a business broker course will be an investment in your financial future that will continue to pay you ample cash rewards for many, many years to come!
Turn

$39.95

into $10,000 Every Month
For Limited Time Only You Can Have
The Business Broker Home Study Course

(Value $149.95)
Business Valuation Spreadsheets

(Value $24.95)
All Necessary Forms & Contracts

(Value $59.95)
For Only $39.95
100% Money Back Guarantee
There is absolutely Nothing to Lose.
You can only Win!
---
Important Instruction
(Payments are Processed by a Secured Payment Processor)
 
Once payment has been made in

Paypal

, you will be directed to a page, where you will be required to click on a link to download the ebook.
 
  If you have any problem accessing the ebook please
click here to contact me.
 
This is a one time fee only. You will never be re-billed.
A physical copy will not be mailed to you.